Disney Weddings
Are you planning a Disney Fairy Tale Wedding? You've found the right officiant – one who will make your wedding ceremony as magical as the Disney surroundings!
Having a wedding ceremony that includes your favorite Disney references – be it movies, quotes, characters, theme park references, and even the waving of a Magic Wand if you wish – gets your wedding celebration off to the start it deserves at "The Most Magical Place on Earth!" There are no rules that say you must have a generic, "cookie-cutter" wedding ceremony that could be performed anywhere — by working with me, I guarantee that your ceremony will have the Disney elements that are special to the two of you, and will delight (and surprise) your guests!
Whether you choose a "Storybook" ceremony, which gives you a choice from several themed ceremonies, or a "Happily Ever After" ceremony, which is 100% customized to the two of you, your wedding ceremony will be something that you and your guests will always remember! I'll be happy to speak with you to explain different options, to give you some examples of creative wording and ideas for your ceremony, and, of course, to answer any questions you may have!
Do you want to see how a magical Disney wedding is created? I was the featured officiant on Season 2, Episode 3 of the
Disney Fairy Tale Weddings Show on Disney+
. This wonderful couple began their married life with a "Happily Ever After" ceremony that was both touching and humorous!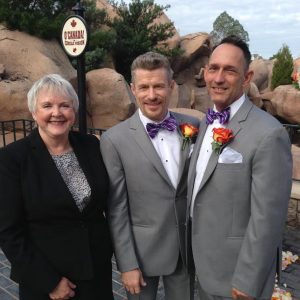 A wedding at Epcot Canada is always beautiful!
A magical Wedding at the Magic Kingdom!
The Wedding Pavilion is beautiful any time of the day or evening!
A night-time ceremony at Disney's Wedding Pavilion is truly magical!
Whether inside or outside, the Boardwalk is perfect!
Couples love Sea Breeze Point, with good reason!
Epcot Italy — Mamma Mia, it's beautiful!
Disney's Grand Floridian Hotel has two beautiful areas for an intimate ceremony!
The Gazebo at Disney's Yacht Club is lovely!
A Vow Renewal at Disney's Polynesian Resort is a beautiful way to celebrate a special anniversary!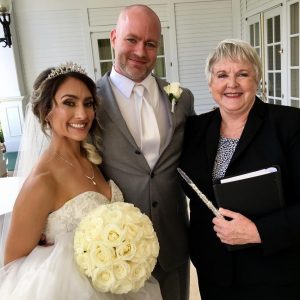 The Whitehall Terrace has a great monorail view!
A midnight wedding in front of Cinderella's Castle is so romantic!
A magical wedding in the Magic Kingdom! Ceremony begins at 7:40